| | |
| --- | --- |
| Sku | CY-!96098 |
| Material | Spandex , Knitting |
| Style | Loose , Long Sleeves |
| Feature | Contrast Color , Gradient |
| Neckline | High-neck |
| Occasion | Casual , Simple , Original Creation |
| Seasons | Spring , Autumn , Winter |
| Type | Sweater Tops |
| Color | CREAMY WHITE,YELLOW |
| Size | M,L,XL |
Please consult the size chart we provide for this item's measurements to help you decide which size to buy.Please note: There may be 1-3cm differ due to manual measurement.
CM
INCH
| | Bust | Shoulder | Sleeve | Top Length |
| --- | --- | --- | --- | --- |
| M | 102 | 43 | 53 | 57 |
| L | 106 | 44 | 54 | 58 |
| XL | 110 | 45 | 55 | 59 |
1. If you want to register on our website, then you can create an account first. If not, you can also shop directly. Please see how to register by clicking the button "Create account" on the top concern of the website. You can sign in with Facebook, Google+, Amazon, or with your email. See as following:
2. Choose the product you want to order, and decide the size and color you want, then click the button "ADDING TO CART"(Tips: please see the Size Chart of each product after the "Description").
3. The product will be added to your shopping cart, you can also change the amount by changing the "QUANTITY". If you also need other products, please also add them to your shopping cart in the same way, then click "UPDATE CART" You can also enter your other requests in instruction box if need. Then please click the "CHECK OUT" button.
4. Enter your Customer information and Choose the shipping method. See as below: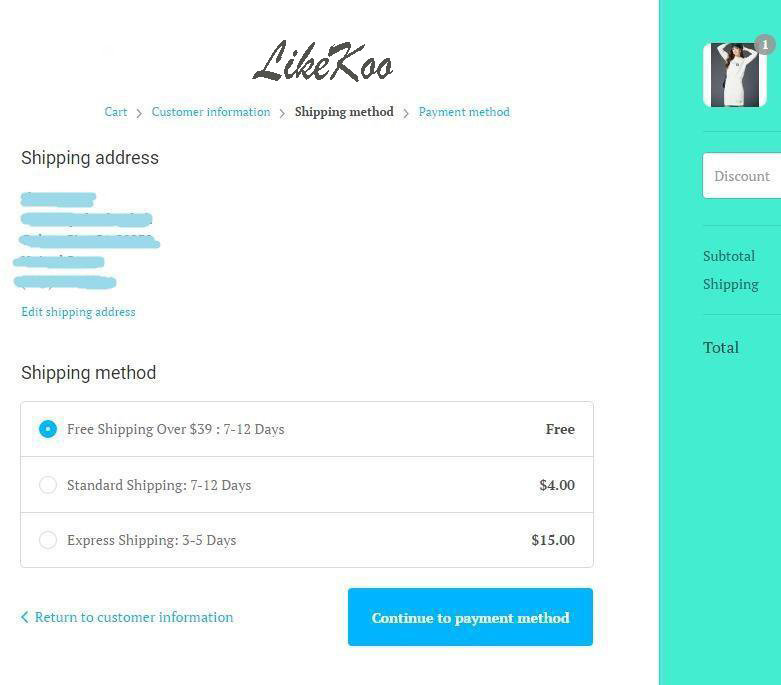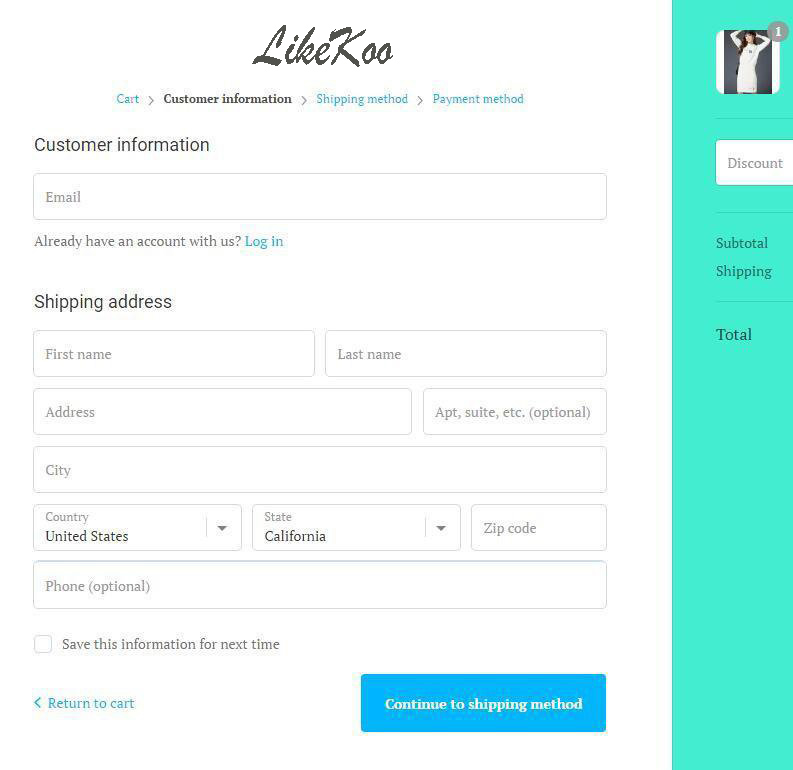 5. Choose the Payment Method and decide your Billing address. If you have a PayPal account, you can pay with Paypal, If not, you can pay with a Credit/Debit Card. See as Bellow: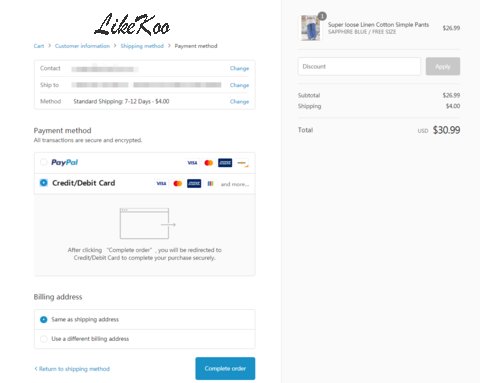 6.If you pay with PayPal, please click the button "Complete order", then you will see a window of Paypal. You can just log in to your PayPal account and pay for it.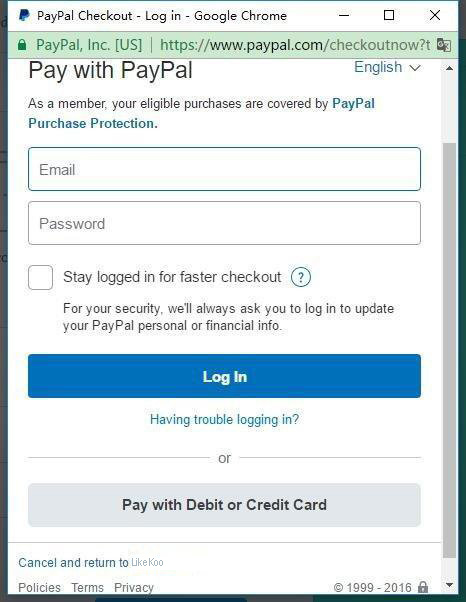 If you pay with a Credit/Debit Card, you will see this page:

You can just enter your card information to finish the payment.
7. After the order is placed, you will see your order information in your account. Your registration email will also receive confirmed information about your order. If you have more questions, please contact [email protected] for help.
Returns & Exchanges & Cancellation
Order Cancellation
Please check the size, color, quantity, recipient, shipping address, and other information carefully before making payment. Once the order is placed, it cannot be changed easily. If you would like to cancel your order, please email us at [email protected] Your order cannot be canceled once it has been shipped.
Returns
We're bummed if you're not 100% satisfied with the items you received. Please review our Returns Policy below:
Returns Policy
If you decide an item is not right for you, you can contact us for returns within fourteen (14) days after receiving your items.

The following items are not eligible for returns or exchanges: Bikinis, Tankinis, One-Piece Swimwear, and Lingerie.

Items returned must be in their original, unused condition with the original packaging. An item that is worn, damaged, washed, or altered in any way will not be accepted for returns

Items sent back without first contacting our Customer Service representative will not be accepted. Please note the address indicated on the packaging slip is not our return address. Items sent there will not be accepted for returns.

You will be responsible for any return shipping cost.

Your refund will be processed after we receive your returned package. For customers who paid by PayPal, your refund will be processed in 2 days after receipt of your package. For customers who paid by credit card, your refund will be processed in 7 days after receipt of your package.

If a returned item is shipped internationally, mark it as "RETURNED GOODS" to avoid any Customs charges. We are not responsible for any charges imposed on packages returned by Customs. Unless otherwise agreed upon, the refund will be processed through the same payment method as the original purchase. We will notify the buyer if the product or packaging is found used or damaged as we reserve the right to deduct any depreciation in value when refunding the product.
We will gladly accept returns within 14 days from the date you received your items. Please follow the process below to process your returns:
Get in touch with our customer service representative by sending us a request in your account. Alternatively, you can email us at [email protected]. Indicate which item(s) you would like to return and the reason.

Our customer service representative will get back to you within 24 hours with a return address for you to ship your parcel.

Place the item(s) in the original packing and seal the parcel securely. Put the return address you received from our customer service representative onto the package.

Drop off your package at your local post office.


Once we receive your package, we will promptly process an exchange or issue a refund to your account in accordance with our returns policy.
Exchanges
If you would like to exchange an item, please contact our Customer Service representative by emailing us at [email protected].
SHIPPING INFO
Due to COVID-19, shipments to the below countries have been prohibited. Unfortunately, we will have to stop our services and shipments temporarily. Once we have clearance to ship again, we will notify you immediately.
(Brazil,India,Polynesia,Serbia,Cambodia(Kampuchea),Reunion,Brunei,Iceland )
We're improving our delivery process to make your packages even safer, so there may be a 4-6 day delay in processing your orders.
We put a lot of focus on making sure your items get delivered as quickly as possible. Delivery times vary according to your selected delivery address, availability of your items and the time of day you place your order.
Processing
Once your order is confirmed, we will prepare your items for shipping. Items may take 2-3 business days for processing. While we work hard to ensure your order is prepared for shipping as quickly as possible, some items may have a longer processing time due to low product availability. In such circumstances, you will be notified by email of the delay.
Shipping
You can enjoy free shipping for orders over $79 for most countries (such as United States, France, Italy, Hong Kong, Taiwan China, Japan, Belgium, Austria, Canada, Portugal, Sweden, United Kingdom, Korea, Norway, Spain, Denmark, Finland, Netherlands, New Zealand, Singapore, Pakistan, Cuba, Vietnam, Guadeloupe, Lithuania, Turkey). Where available, you can opt for Express Shipping for an additional fee.
Important Note
When express shipping was chosen, specific address information (including street/block, name, phone number) is required in ENGLISH according to Shipping regulations.
Delivery times vary depending on your shipping destination:
Countries
Standard Delivery Time
Express Delivery Time

Asia: Singapore, Malaysia, Philippines, Indonesia, Taiwan-China, Bahrain

Europe: Poland

North America: Mexico

3-9 Working Days

3-5 Working Days

Asia: Japan, Thailand, United Arab Emirates, Saudi Arabia, Korea ( South), Russia

Europe: United Kingdom, Russia, Netherlands, Denmark, Finland, Norway, Czech, Slovenia, Hungary, Lithuania, Bulgaria, Switzerland

North America: United States, Canada

Oceania: Australia

5-12 Working Days

4-7 Working Days

Asia: Kuwait, Cyprus, Kazakhstan, Jordan, India

Europe: Germany, France, Italy, Spain, Belgium, Ireland, Sweden, Austria, Portugal, Latvia, Slovakia, Malta, Romania

Oceania: New Zealand

7-16 Working Days

5-8 Working Days

Asia: Israel, Turkey

Europe: Iceland, Ukraine, Turkey

10-22 Working Days

8-15 Working Days

Europe: Greece

South America: Argentina, Chile, Colombia, French Guiana

Africa: South Africa

9-13 Working Days

9-13 Working Days

Brazil

15-30 Working Days

12-22 Working Days
Order Status
Once your order is placed, we will update you on your order status by email.
Order Confirmation
Immediately after your order is placed, an Order Confirmation email with a summary of your order as well as your shipping and billing details will be sent to you.
Shipping Confirmation
Once your order is shipped, you will receive a Shipping Confirmation email, letting you know your items have left our warehouse. Details about the items contained in the shipment as well as a tracking number are included in the email. To track your package, simply click on the link provided. Please note that sometimes it takes the shipping company 24 hours to update the status of the shipment and your tracking link may not work immediately. If your order has multiple items, they may be split into different packages shipped on different days. You will receive a separate Shipping Confirmation for each shipment.